You can now give to MEBO by shopping with AmazonSmile and PayPal.
MEBO Monthly Prayer Focus is your opportunity to pray for the work of God's kingdom in Lebanon and the Middle East. Every month we focus on a different aspect of the ministries you can support through MEBO, providing you with information and prayer points so you can pray with insight. Please use this resource to pray with your Community Group, your dorm floor, globally-minded friends, pastoral leadership, elieving neighbors and colleagues, and also in your personal quiet time. Invite your parents, children, or grandchildren to pray, too. Thank you for joining us in prayer this month!
April 2018: Standing up for special needs kids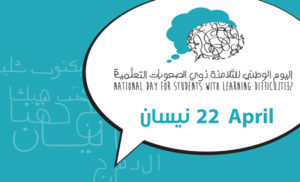 SKILD (Smart Kids with Individual Learning Differences) is a response to a lack of public awareness and accessible resources in Lebanon for students with special needs. It works with private and public schools, universities, the Ministry of Education and Higher Education and other partners to equip educators, parents and individual learners in nurturing a culture of inclusion. It also offers services and support for families at the SKILD Center in Mansourieh, north of Beirut.
The National Day for Students with Learning Difficulties is the centrepiece of SKILD's campaign to make peers, parents, schools, politicians and the wider Lebanese population more aware of the challenges and potential of special needs children. It will be held for the sixth consecutive year on 22 April, 2018, in partnership with the Lebanese Ministry of Education and Higher Education and the British Council.
Please pray for:
The National Day for Students with Learning Difficulties on 22 April, that it will increase awareness amongst the Lebanese public of the importance of inclusive education
Church leaders attending SKILD's workshops being held across Lebanon in April, May and June, that they will gain a greater understanding of the challenges facing those with learning differences and how their churches can advocate for these children and their families at a community level
Teachers attending special education workshops organized by SKILD on 23 and 24 April at Haigazian University, that what they learn will affect their approach to this important topic in their schools
All those running to raise awareness of SKILD's National Day campaign at the Beirut Women's Marathon on 22 April
SKILD's video campaign currently on social media will dispel misunderstandings and increase understanding of special needs conditions like ADHD and Autism
Click Here to download printable version of the April 2018 Prayer Focus
Find out more about SKILD, including partnership opportunities and financial needs at www.mebo.org/ministries/skild-center
You can also follow SKILD on Facebook www.facebook.com/SKILDCenter/